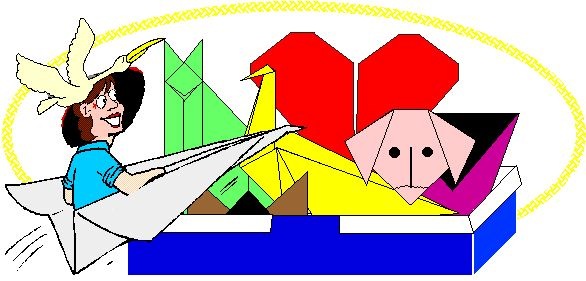 How To Arrange a Perfect Visit
With Christine Petrell Kallevig
---
Christine's Out Of Print Books:
Before the Visit
1. Verify the visit details. Confirm with administrators and custodians that the date and time of the visit are correct and current, and that the performance space is reserved for Christine's visit. Sometimes visit dates and times are changed after the contract is signed, but not everyone is informed.
2. Arrival: Christine prefers to arrive at least 45 minutes before the scheduled start time. Please make sure that there is someone to let her into the building and that the performance space is accessible for set up. If the space is being used for morning programming or breakfast, Christine will not interfere with the regular school routine if the tables are in place.
3. Autographing: If you are offering your students and staff the opportunity to purchase discounted autographed books, you should have received an order form at least six weeks prior to the visit. Please notify Christine immediately if you have not received the form. It's best to post or distribute the book form at least two weeks before the visit. If you want students to witness Christine's autographing, be sure to build time into the schedule. Otherwise, Christine will sign the books while she's at school so they can be distributed before the end of the day.
The autographing process goes faster and more accurately if payment and order forms are collected and paper-clipped together a day or two before the visit. Please remove staples! If possible, provide a distraction-free autographing table. Christine travels with extra books to accommodate late orders. Rarely, Christine does not bring enough copies. If this happens, autographed books will be mailed to school (free shipping) during the week following the visit.
If you booked the FREE PROGRAMMING option, your 100+ books will be delivered on the day of the visit and if desired, pre-autographed with Christine's signature.
4. Microphone: Notify Christine if she needs to bring her own system. She travels with a microphone stand, extension cord, and a small sound system. If she's planning to use the school microphone, check your sound system:
Does it work?
Is it properly installed?
Are spare batteries available?
Can you set it up before Christine arrives?
Is it hands-free? A free standing microphone is preferred, but clip-on is acceptable if it's static-free.
5. Display Tables: Set up at least two long (6-10 feet) tables. If possible, three tables are better! The first thing Christine does after signing into the office is set up an origami display. This takes at least 30 - 40 minutes. If the tables are not already onsite, then there may not be enough time to display all the origami models the students will want to see.
6. Student Tables are not necessary for assembly program students. Students are most comfortable sitting on the floor. Cafeteria tables should be cleared to allow enough floor space for the students, but if the tables must remain during the program, then please arrange them so that students are seated facing forward. Tables or desks are required, however, for students participating in Origami Intensives. The chairs and desks should be arranged so that the students are facing Christine.
7. Chairs: Christine needs five extra chairs up front with her for student volunteers and/or puppeteers.
8. Lunch: Please inform Christine about your plans for lunch if the visit includes both morning and afternoon performances. She does not have food restrictions or allergies. Christine will gladly pack a lunch if you do not plan to provide a meal. Eating at school or ordering-in is preferred to leaving campus.
9. Student Preparation is not necessary. Christine provides an age-appropriate introduction to origami as part of the program. If your students are experienced paper folders, however, please inform Christine so that the introductory remarks can be adjusted. Also, please tell Christine which origami stories, such as Sadako and a Thousand Paper Cranes, the students have already heard or studied.
After the Visit
1. Follow-up Storigami: Be prepared for a massive uptick in origami interest. The following books all have origami as a major part of the plot. School and public libraries already have many of them, so reserving them before the visit and making them available afterwards is a great follow-up activity.
Hovering your curser over the book titles will open a link to Amazon where you can read detailed descriptions and reviews. As an Amazon Associate this site earns a tiny commission from qualifying purchases.
2. Follow-up Asian Cultural Studies: These books are great resources for folk tales and Asian traditions and celebrations.
3. Follow-up Math: These books reinforce the connections between origami and math.
4. After the visit book orders: Sometimes students are absent or orders are misplaced. It's up to the event organizer how this should be handled. Christine is willing to autograph and mail books to school (free shipping) after the visit, if the orders are sent together in one mailing and she's alerted through email that the book orders are coming.
Another option is to tell the students and staff that the book sale is over, but if they still want books, they can order them individually at storytimeink.com. They would, however, not receive the discounted price nor free shipping.
A third option is to order a set for the school library and encourage students to simply borrow the books throughout the rest of the school year.
5. After the visit letters or photos: Christine loves to hear from students! Writing brief reactions or summaries about the program is an excellent post-visit writing activity, especially if math or literary vocabulary can be included. Terms Christine often uses are: symmetry, symmetrical, modular, character, plot, parallelogram, triangle, square, traditional, origami, and complex
Email digital photos to:
VisitingAuthor-Ohio@yahoo.com
Mail letters to:
Christine Kallevig
577 Hidden Harbor Dr.
Fairport Harbor, OH 44077
Copyright 2019 by Christine Petrell Kallevig.