POCKET
POWER
THE HANDS-IN SITE FOR EARLY CHILDHOOD POCKET LOVERS
Hamster Pockets
I think it's kind of funny
That hamsters, oh so small,
Can shovel in the food they do
Without a spoon at all.
The pockets around their faces
Never seem to fill.
Scooping up the seeds they like,
Their hands are rarely still.
I wish my cheeks had pockets
To store the things I like.
I'd put in pizza, fruit, and toys,
And maybe my brand new bike.
I think it's kind of funny
That hamsters, oh so small,
Can stuff so much in pockets
Without splitting seams at all!
By Christine Petrell Kallevig
Excerpt from page 83: Activities About Animals With Natural Pockets
Find out more about this POCKET OBSESSED Ohio author, workshop presenter, and professional storyteller!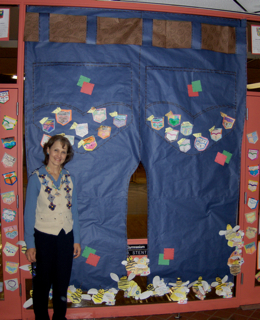 Christine Petrell Kallevig often presents programs at schools, libraries, and conferences. Call her at 440-838-4881 or
send an email
if you need a speaker with lots of pockets and REALLY BIG JEANS!!!
---
Download the bibliography from a recent presentation for school librarians and be amazed at the wonderful pocket themed resources available for pre-k and primary children!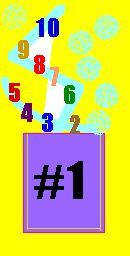 TOP TEN REASONS
EVERYONE IS MADLY IN LOVE WITH POCKETS
10. Where else can you hide your secret stash of M&Ms? (They melt in your mouth, not in your pockets...)
9. Everybody's doing it - loving pockets, that is. (You may as well give in and go along this one time...)
8. Railroad conductors need them for their pocket watches.
7. Criminals would start stealing our fabulous, high-paying early childhood teaching jobs without so many pockets to pick.
6. Pockets unify generations, classes, races, religions, genders, and a few animals, too! (Think kangaroos, hamsters, and pelicans...)
5. Billiards would be an annoying cardio-vascular workout without them!
4. Where else would Bill Gates keep his loose millions?
3. Losing important stuff out of pocket holes is the only universally accepted excuse for running late.
2. Without pockets, rivet makers would go out of business and ruin the economy.
1. And finally, the NUMBER ONE reason to love pockets: WHAT WOULD NERDS POSSIBLY HAVE TO PROTECT WITHOUT THEM?
&nbsp &nbsp &nbsp Are you wondering how pockets can help your preschool, kindergarten, or early childhood learners?
&nbsp &nbsp &nbsp Watch this video clip for some fresh ideas about how simple everyday pockets can benefit your early childhood classroom.
&nbsp &nbsp &nbsp Then take a look at the amazing pocket photos posted on this page. The first photo shows one of several walls of pockets created by the wonderful and enthusiastic students at an elementary school in Ridgway, PA in preparation for a visit by the popular early childhood Ohio author and professional storyteller, Christine Petrell Kallevig. Each student decorated a pocket, made something to put in it, and then wrote descriptive clues about the object. Here is a kit, lesson plans, and preschool pocket story ideas that were compiled by the King Co. Library System. There are so many great ideas for how to use free library resources!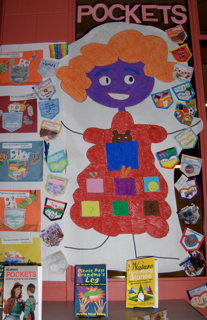 TOP TEN REASONS POCKETS ARE GREAT LEARNING TOOLS
Pockets are naturally....

10. Inexpensive

9. Sturdy

8. Safe

7. Practical

6. Plentiful

5. Mysterious

4. Fun

3. Supported by tons of FREE library resources!
TIP: ALL ABOUT POCKETS reviews and cross-references 85 different picture story books and poems that feature pockets!
2. Pockets are perfect for learning games, silly songs, short stories, and finger plays, all targeted at early childhood academic, social, and motor developmental goals. Pockets work great with reading games, too.
1. AND FINALLY, the number one reason pockets are great learning tools: The use of pockets is already planned and organized in 126 pages full of lessons and activities in the book, ALL ABOUT POCKETS! (Which is also inexpensive, sturdy, safe, practical, etc.)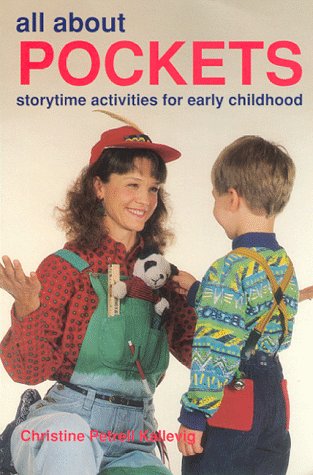 Scroll down and look at the early childhood pocket themed books and the award-winning DVD, Storywatchers Club: Keys To Imagination, listed below. These are just a few of the GREAT pocket resources that are already out there, waiting for us!
Check your local library first, but if you want to read reviews, sample pages, or buy them now, just click on the links to Amazon.com where they have tons of current information and a secure credit card process.